Casino memes
Who doesn't like memes? They have become so essential and integral for our casual routine that we don't pay that much attention to them anymore. In turn, our review team has long been in favor of memes with a specialized and unique theme, whereas our favorite ones have always been the funny casino memes. These cultural artifacts play an even more significant role in the modern world of digitalization since they can form tightly knitted communities, such as a gambling one.
We all know perfectly well almost all the gameplay nuances of our favorite slot machines, table games, and other gambling variations. That's why it can be so easy to share the collective ideas, emotions, and cultural expressions in the form of cultural artifacts that can be understood by millions worldwide. If you have thought that gambling doesn't have its niche of memes, you were wrong! Our experts in memology have prepared the funniest memes, which will certainly be understood by anyone experienced in gambling. Without any further introductions, stay tuned!
Funny slot machine memes
Free coin meme!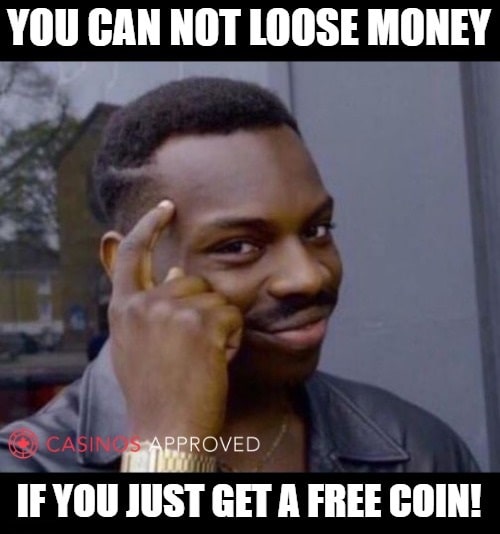 This is a meme that makes gamblers think twice about the value of extra coins and free spins. By stating that "you can not lose money," an image is correct in depicting the implications of using free spins, which can bring lots of fortune without financial investments. You know, it is better to think about it, just like a man on the image!
Refund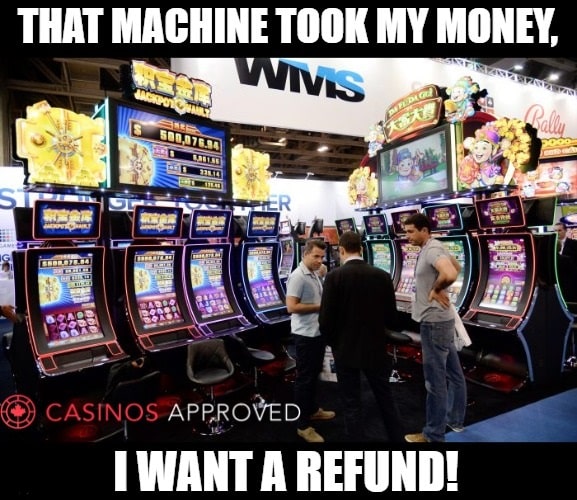 This is potentially one of the most impressive artifacts we've ever seen, much because of the ironic essence of a situation. A man on the meme has stolen all the money to a slot machine in a casino venue, eventually asking for a refund, implying that it TOOK his money. Even though one can express such a concern to a casino manager, the entire situation of the meme is just too funny to be true!
Free spins has begun meme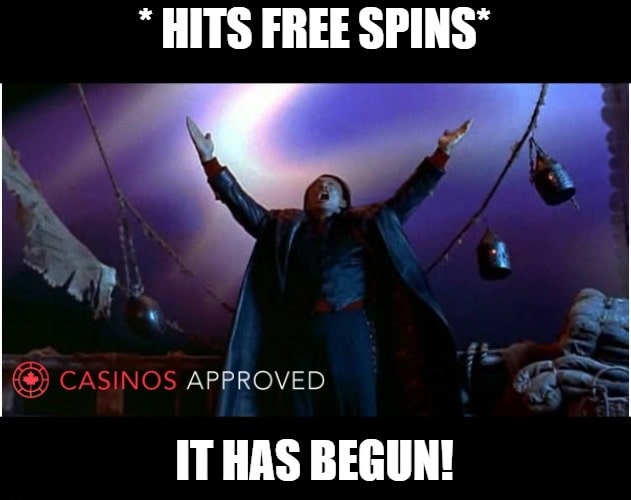 In this meme, you will recognize an iconic Mortal Kombat character and an important message of hitting the free spins. All gamblers, regardless of their experience and competencies in playing slot machines, still wait for those free spins to trigger, which usually come with all those nasty multipliers and coefficients. Some players even stay in the same pose while waiting for the free spins to hit thousands of multipliers in returns, hopefully.
Zoidberg as and penny slot meme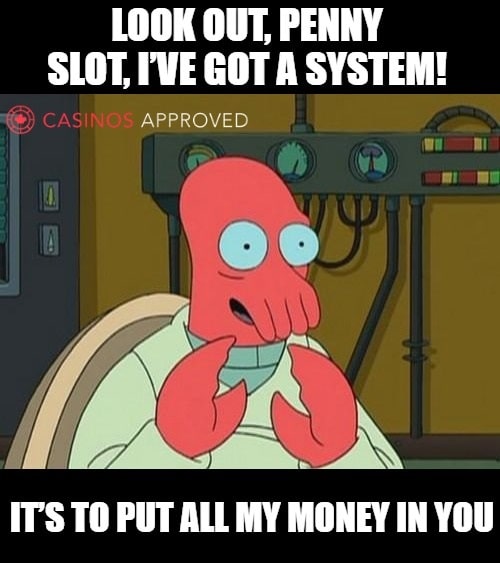 Even iconic Zoidberg from Futurama knows something about gambling and its occasional side effects. This meme makes fun of impoverished gambling enthusiasts, who are perceiving penny slots, the games with lowest wagers, as their only available options to play. It is definitely a good example of a decent irony.
What about try some great online slots?
Casino table games memes
Roulette vs Chat-Roulette meme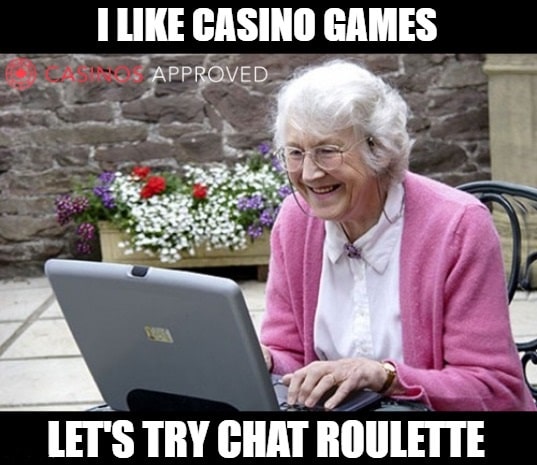 Alright, laughing at one's or your own grandma is unacceptable, yet it can be topical from one time to another (no sarcasm). As this casino roulette meme implies, a grandma in front of the laptop wants to gamble online by trying "chat roulette." The funny thing is that roulette is one of the most famous table games, whereas the "Chatroulette" is a website for webcam conversations.
Iron Man in a casino blackjack meme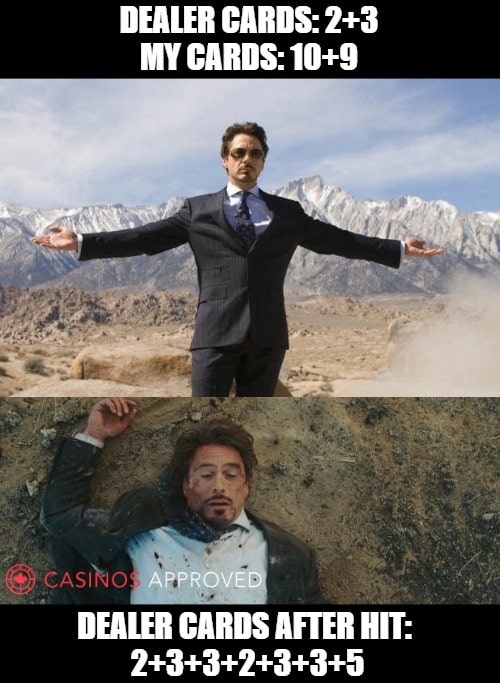 Sometimes, even a single dealt hand in Blackjack can lead to a vast Jackpot prize, especially when you're dealt 10+9 against dealer's 2+3. A total of 19 seems to be promising, yet even 2 and 3 can lead to the odds for a dealer to hit 21. Robert Downey, Jr. definitely matches the meme's intention, which was to show how anything can happen in Blackjack, which most players in Canada already know.
Go fish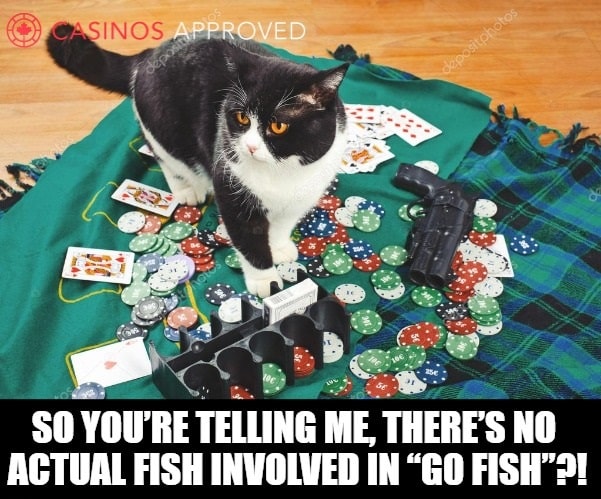 Go fish is a card game that is now presented in various online casinos, which involves wordplay, as displayed in this casino win meme. A cat that holds the cards questions whether there are really no fish involved in 'go fish.' Unfortunately for a little hungry cat, fish is somewhere around, but not in this specific card game.
Left casino with money joke
If you like the moments of winning hard, this meme will surely evoke flashbacks in your mind! A baby on the meme is definitely proud of leaving a gambling venue with a win. We all enjoy the situations like these so that we only hope that you will leave your casino with just the same facial expression and gestures like in this meme.
Everyone wants a compensation in casino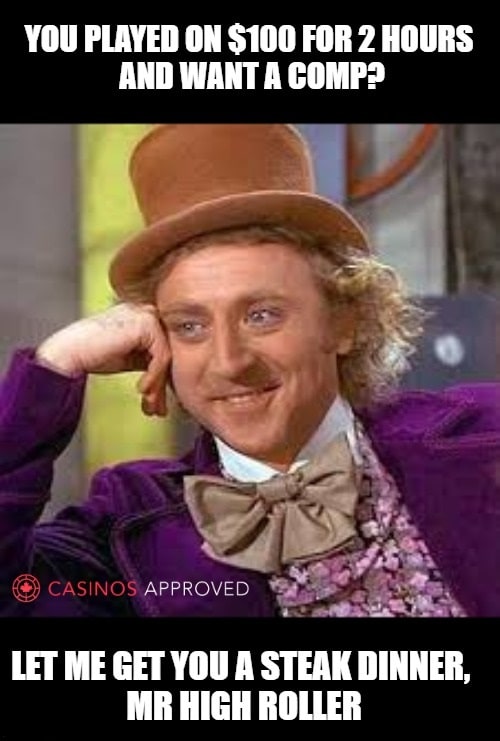 For those who don't know what a comp is, we will explain this meme to anyone willing to laugh at the depicted situation. A man asks whether one is willing to play on $100 for two hours, at the same time, receiving complimentary items from the side of a gambling venue. The truth is that such an amount of bankroll is definitely not enough for getting all those features, which is why a man in the meme ironically suggests buying a steak dinner for such a "generous" gaming session.
Best casino table games that made for you
Gabling and Religion memes
Gambling luck prayers memes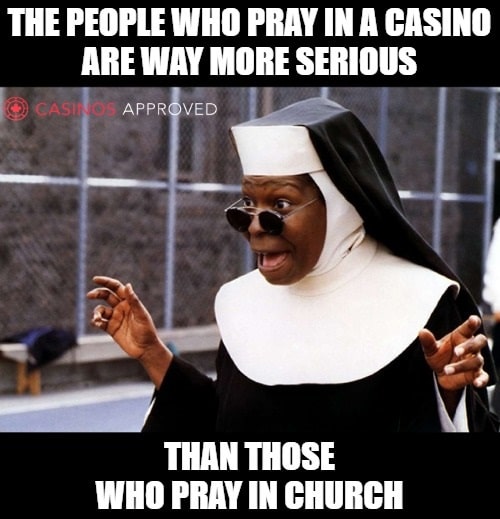 When it comes to praying, this meme shows the anticipation in gambling the most accurately. Implying that players in casinos pray more seriously than those in church, this meme best represents the feelings of gamblers, who are passionately waiting to score some luck that long-anticipated Jackpot. Although the comparison is strictly ironic, we are well aware of what does it mean to pray for increasing the chances to trigger bonus features or land a few Scatters.
Gambling is sin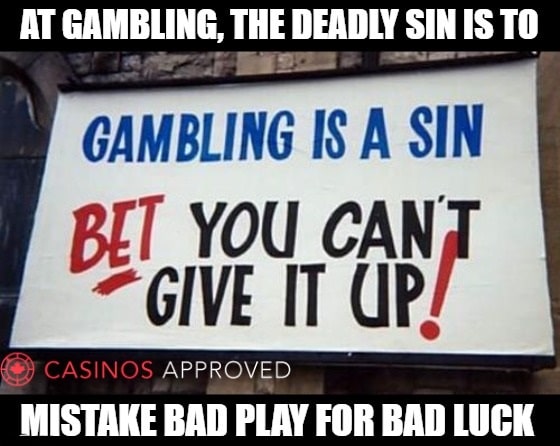 In this funny casino meme, a sign that implies that "Gambling is a sin" is represented. One of the most iconic ironic features is that it follows by stating that a sign 'bets' that you cannot give it up! To bet or to wager is an integral action in any gambling activity, which makes this meme such a topical artifact for gamblers.
What prayer must be said to win the jackpot? None! You have 80 chances! 
Funny Bingo memes: Bingo!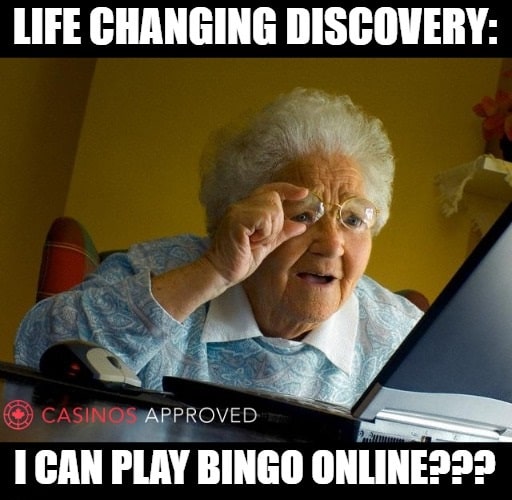 Once again, a grandma is the main character of the meme, who has just realized a life-changing discovery that Bingo can actually be played online! We all were shocked after realizing that online gambling is such a hit nowadays so that anyone is this granny, one way or another.
Casino dealer memes
Dealer or dealer?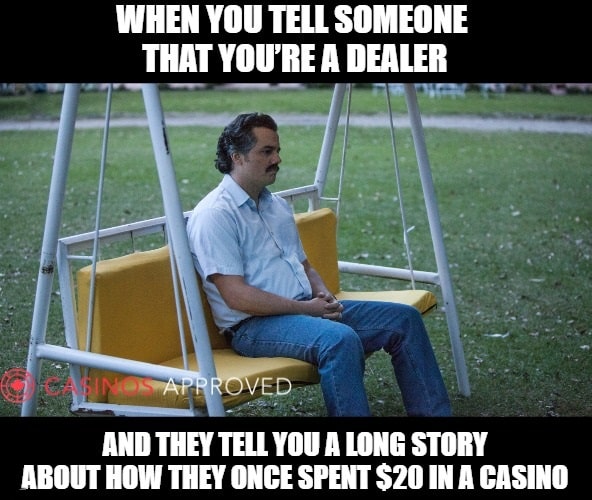 A meme represents a bored guy, who is a dealer in the casino, apparently. After seeing thousands of unique gaming sessions, that daunting story about spending a tiny fraction of $20 in a casino is definitely off-topic. All dealers will recognize the main character of a meme since all those stories about little losses are just hard to listen to.
So, what is your job?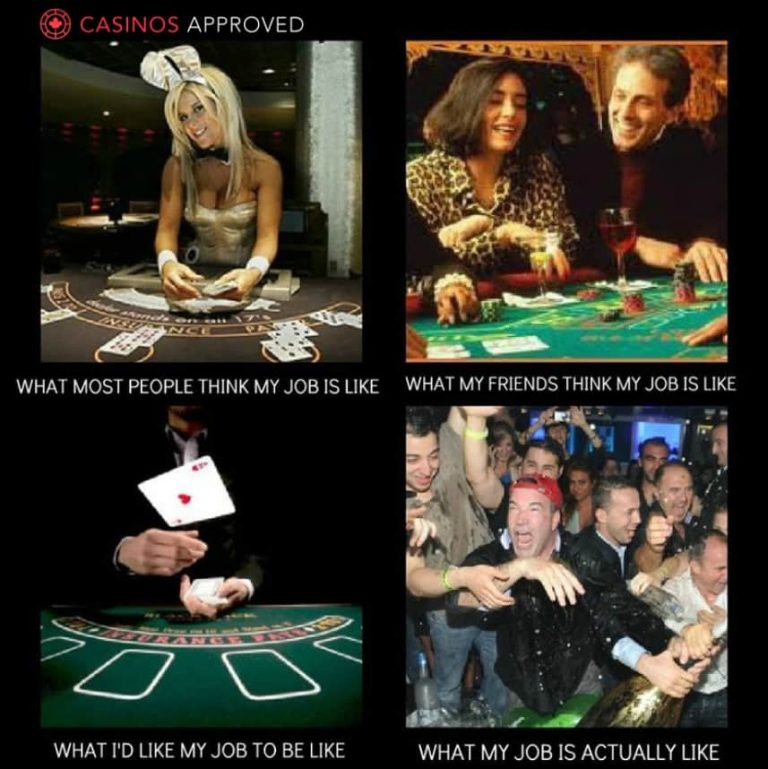 We've all been in a situation where different perspectives on gambling actually meant contrasting prospects. In this meme, four different outlooks of what gambling as a job actually means are depicted, which is true for thousands of players in Canada. Even if you're hoping your job to look like a professional blackjack session, gambling has many ups and downs, don't forget about it!
Check out Best Live Dealer Casinos
Native Americans in gamble memes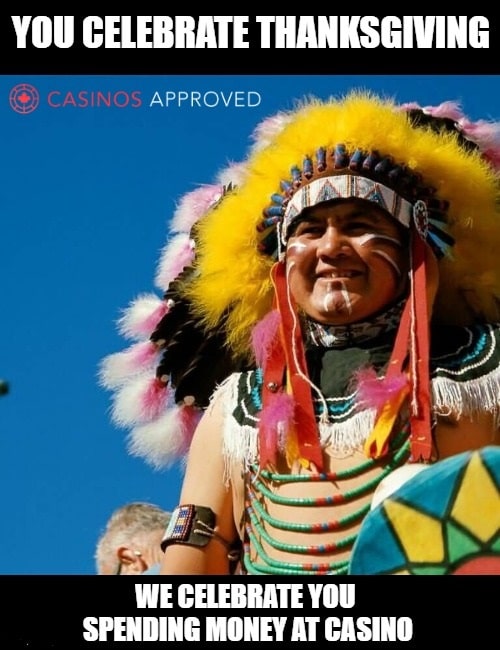 A depiction of a man from an Indian tribe best implies the value of native casinos for the local economies at reserves. This meme contrasts how casual gamers celebrate Thanksgiving, whereas natives benefit from the gambling patterns in the native-owned venues. This one can be hard to apprehend at first, yet the morale of a meme is more than evident, you see.
ATMs in funny slot machine memes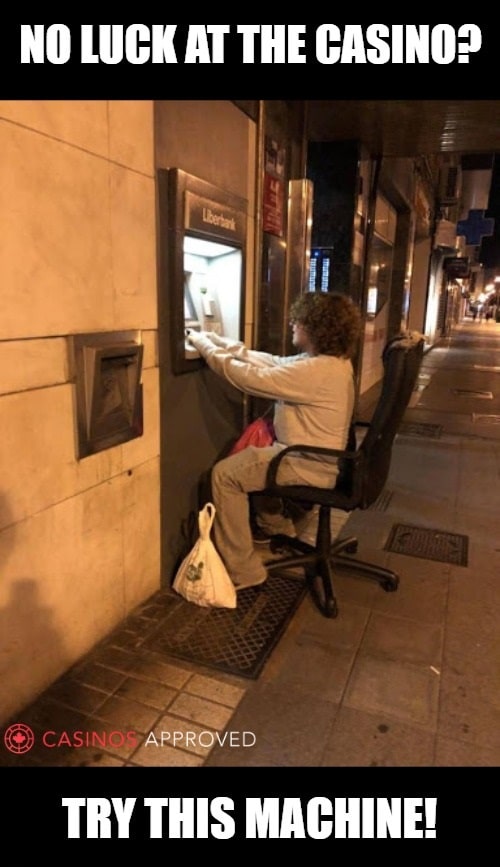 A meme makes fun of how some players can be unlucky with slot machines, implying that they should better try themselves in something different, such as ATM machines. This tricky meme encourages gamblers to take an extra risk of cashing out their credit cards with some Canadian dollars to gamble to get the money back or even win more than the initial deposit.
IDGAF in gambling memes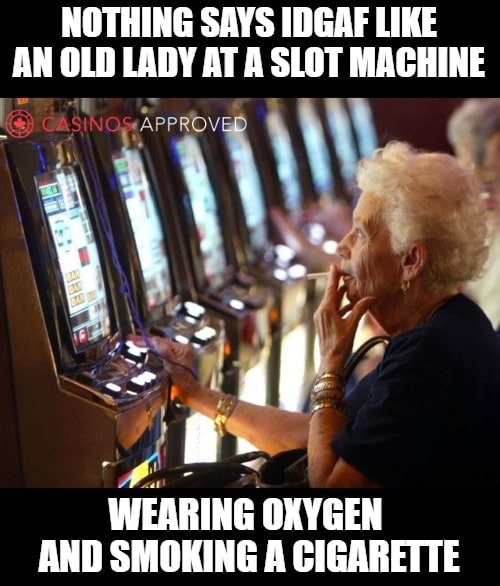 Here comes a real game-changer, a granny wearing an oxygen mask, who smokes a cigarette and gamblers at the same time! We won't explain each specific work of the IDGAF acronym, but for most players, this meme is a representation of a gambler that rocks hard!
Quarantine casino meme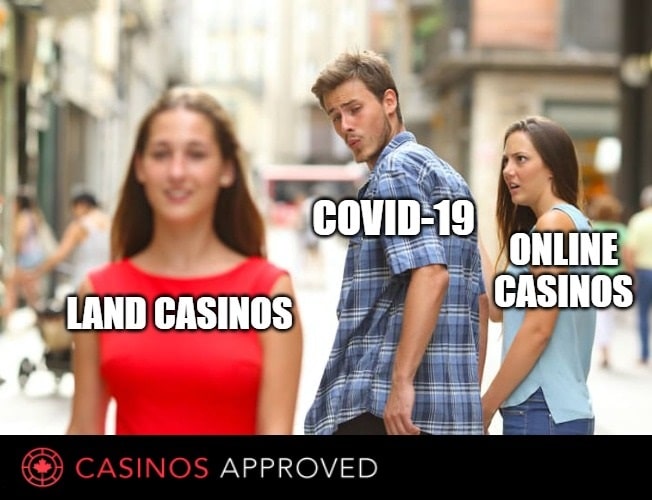 The virus that caused the outbreak of the coronavirus was found to have a high viral load and therefore took a few weeks before it could be contained and identified. This virus is very serious and should not be spread without treating it immediately as it can only be treated once it has been identified. It spreads by direct contact with an infected person, for example, if a virus-infected mobile phone user comes into contact with a new virus they can pass it on to others. Because this is such a serious virus it will soon spread to all parts of the world and it is estimated that one million people will contract the virus over the next few weeks. There are, however, a number of solutions to the problem that are available. It talking about gamblers, the first thing they should do – is DO NOT attend land casinos, where they can contact with loads of people from all around the globe. If you are aware of coronavirus – online casinos are the solution! You can choose any real money Canadian online casino you like from the list and stay safe during the quarantine.
Quarantine gaming meme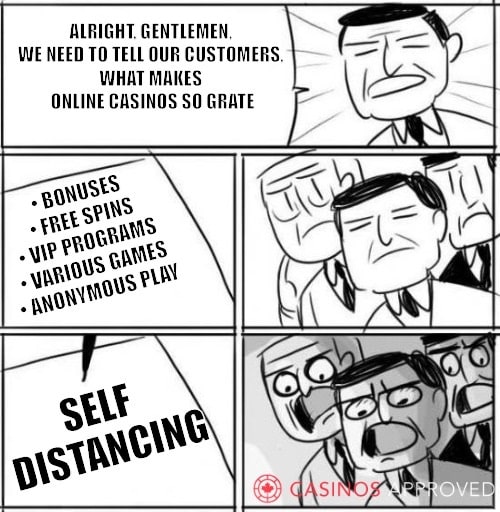 Self-isolation and quarantine gaming memes are used for defining the meaning of the disease. It is said that the patient must go out of the risk zone within a certain time. Therefore, the patient must take time out of his/her job or school, to attend to the illness. The time duration varies from one particular disease. Moreover, the more people become infected, the longer the time span for the self-isolation and the quarantine gaming meme for the disease has to be used.
Toilet Paper Gambling Meme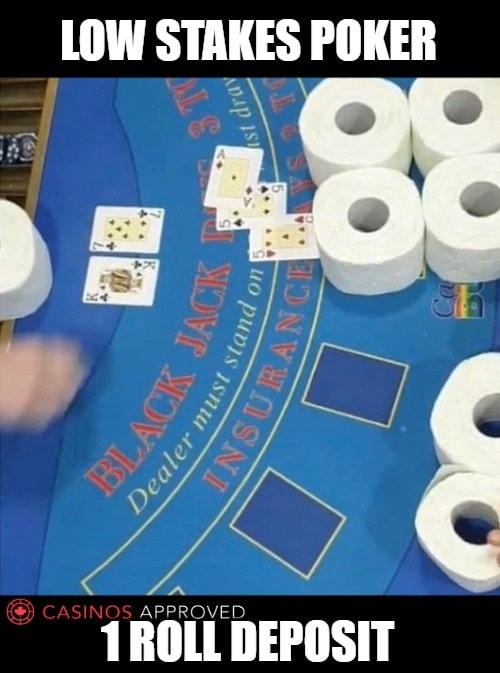 One of the very popular jokes at the moment is a joke based on the coronavirus and toilet paper. Any experiences gamer during quarantine does not count it as meme, he knows that toilet paper is essential during self-isolation period, even if you are just keeping playing online casino games.
A lot of people are either making fun of the whole coronavirus meme, or have gone with the idea that it is true, and there is no joke at all behind it. People around the world have started to joke that they too will be joining in with internet gambling, even though they are now legally allowed to do so. However, because they are not allowed to bet any money, they have no problem with taking bets with rolls of toilet paper, the most controversial good of this period! What do you think – bonuses like "deposit one toilet paper roll to become a millionaire" would hit the market?
Use lockdown to gain some money
Final remarks
After reviewing all those precious memes, you know now that a gambling community shares dozens of funny moments, which can be common to thousands of enthusiasts across the globe. We see some positive trends in portraying gambling as a courageous, yet extremely entertaining and sometimes ironic endeavor, which is best seen through the depicted above images. Our review team hopes that you enjoyed those memes, which undoubtedly made our team laugh hard, especially when seeing some images that are so reminiscent regarding our gaming experiences.